What is Water Filtration?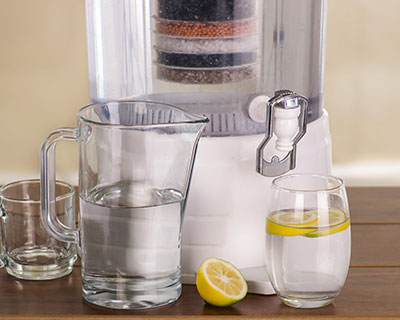 Water filtration, in general refers to a type of process utilized for filtering out particles and contaminants from your water supply. Any type of water filter that removes particles, bacteria, sediment or chlorine taste can be referred to as a water filtration device or system. Whether the device has a water filter of any type, it is a water filtration system, though there are several different types. Simmons Plumbing & Heating has the knowledge and expertise to help you determine which water filtration device or system is most suitable for your home or office.
We deploy knowledgeable crews with extensive experience with water filtration system installation, maintenance and repairs. When hiring Simmons Plumbing & Heating, you can rest assured knowing that we guarantee the quality of all our workmanship and the reliability of the products we install. You can also read more on how water filters work. If you have any question related to water filtration system installation, repair and maintenance, don't hesitate to contact us today at 1-800-929-833.
Types of Water Filters
Knowing which type of water filter will work best for your home or office is of utmost importance. We always recommend having your existing water system reviewed by one of our well-trained professionals in order to make sure you have the most suitable and reliable water filtration system in place. And if you don't already have one, we can guide you on the most suitable water filtration system to ensure maximum protection for safe drinking water.
From Activated Carbon Filters, Reverse Osmosis Filters, ION Exchange Filters to Distillation, Simmons Plumbing & Heating can handle all projects involving various types of water filtration installations, in addition to Water Softening systems if your water supply is producing hard water. We have installed, repaired and maintained all of these types of systems for numerous clients throughout Northern Massachusetts.
To learn more about which is the right water filter for your home or office, please review further information, which explains each process here:
Activated Carbon Water Filter
This is the most common household water filter. It uses activated carbon granules, referred to as active carbon or AC or more commonly, charcoal. Read more about Activated Carbon Water Filters
Reverse Osmosis Water Filter
Osmosis is a natural process by which water moves to insure equal distribution of particles. Reverse osmosis forces water to move against its natural inclination. Read more about Reverse Osmosis Water Filters
Ion Exchange Water Filter
An Ion-exchange filters also known as a water softener is designed to remove impurities such as Magnesium and Calcium by exchanging bad particles with good particles. Read more about Ion Exchange Water Filters
Distillation Water Filter
The oldest and simplest ways to purify water is to boil it. Distillation is a process in which water is boiled and the steam is captured and cooled in a separate container. Read more about Distillation Water Filters
Potable Water Test
The only way we can know what treatment you need is to first test your water. Purchasing off the Internet or a local hardware store will not provide you with this service. Do I need a Water Test?
Water Filtration Installation
Simmons Plumbing & Heating can test your water supply before recommending and installing the most suitable and reliable water filtration system in your home or commercial property. We specialize in diagnosing the quality of your water and identifying any and all contaminants. Our service professionals are highly experienced and work efficiently on installation or repairs. We have all the necessary tools and equipment for installing the ideal water filter. We only recommend premium quality products in order to provide you with a long-lasting water filtering system.
Water Filtration Repairs
A broken or inefficient water filter will not only cause an inconvenience but may also result in contamination of your drinking water, which can cause harm to your health or even illness. Our highly competent professionals can easily pinpoint problems by performing systematic testing and diagnosis of your water supply. We inspect the water source, plumbing, water pump, valves, and the water filter to identify the real cause of the problem before performing adequate repairs. This thorough approach helps us ensure that the proper repairs are carried out the first time.
Water Filtration Maintenance
As mentioned above, it is imperative that your property's water filtration system is always in perfect working condition at all times in order to remove any potential health risks. However, water filters will experience wear and tear, clogging, and other issues that may affect their performance over time. Avoiding these issues is easy by simply scheduling our water filter maintenance services. We maintain all types of water filtration systems, whether at your home or office. Our crews are equipped with modern diagnostic tools in order to determine the maintenance needs of your water system.
Please call us today at 1-800-929-833 for further assistance.
Call any one of our convenient service areas for assistance