EMERGENCY PLUMBING & HVAC SERVICES IN HAMPTON NH, NORTH HAMPTON NH, KENSINGTON NH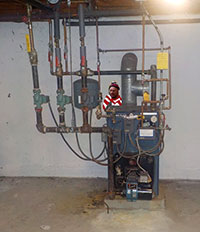 If you've experienced a sudden malfunction of your water heater, furnace or different plumbing fixtures – in the kitchen or bathroom – you've probably wished you had a plumber on hand right at that moment. Not to mention it always seems to happen right before that big party, on the week end or in the middle of the night. At Simmons Plumbing & HVAC, we are here precisely for times like this.
For more than 25 years, we have been providing emergency services for all of these heating and plumbing problems. Whether yours is a commercial and residential property in Hampton, North Hampton or Kensington or the surrounding New Hampshire area we are available 24/7 365 days a year. Moreover, our expert plumbers are highly sought after because of their unmatched expertise in rendering quick and effective solutions. Call us at (603) 964-6206 today.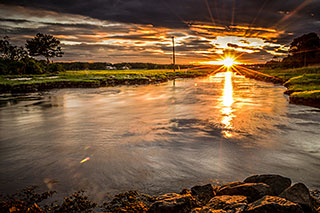 Sunset at Hampton Beach
Got a Plumbing Problem? Give Us a Call!
Have a clogged bathroom drain that has practically turned the place into a sea of suds? Does that leaking kitchen drain constantly keep your kitchen area wet and slippery? Have your plumbing pipes seen better days and should be replaced before they burst on these frigid New England nights creating huge water bills? Let Simmons Plumbing & HVAC take care of these problems for you by calling at (603) 964-6206.
Simmons performs various plumbing emergency services, such as repair of water heaters, tub valves and faucets, broken water mains, well pumps, drain clearing, and garbage disposal among others. We specialize in repairing those burst and frozen pipes, especially during the winter. We have been there for these problems and more for many of our Hampton, North Hampton, and Kensington neighbors and will be there for you. Our plumbers efficiently fix and repair all your heating and plumbing issues to prevent those high water bills and other major inconveniences for you as a New Hampshire property owner. Our technicians only use premium, brand name replacement parts, so you are assured that they are the best. Aside from their expertise, our plumbers are also highly professional and courteous – always striving for that personal touch.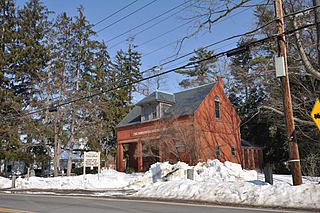 Kensington Public Library, Kensington NH
Image by Magicpiano
Reliable Plumbers and HVAC Technicians in the Seacoast Area
Simmons has achieved our industry-leading plumbing and HVAC reputation by ensuring that our workmanship is top-notch. We have expert technicians who have underwent thorough industry training as well as having years of practical experience. They have already worked on countless jobs in New Hampshire, and have accomplished the right solutions for every possible plumbing and heating problem.
Simmons will also ensure that our technicians will arrive at the soonest possible time after receiving your call. We know how busy you are, so we will make sure that we perform our tasks as efficiently and quickly as possible. So call (603) 964-6206 today.