EMERGENCY PLUMBING & HVAC SERVICES IN EXETER NH, BRENTWOOD NH, EAST KINGSTON NH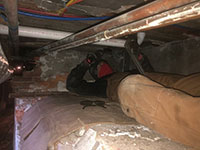 Simmons Plumbing Heating & Air Conditioning has more than two decades in the plumbing industry. We have certified technicians, the right tools and access to brand name products and equipment to remedy any possible issue you may encounter.When it comes to providing emergency service in New Hampshire, Simmons Plumbing, Heating & Air Conditioning is your perfect choice. Call us at (603) 964-6206 today.
Plumbing and Heating Emergency Services Are Our Business
Simmons Plumbing, Heating & Air Conditioning, having been in business since 1985, has developed unmatched expertise in the heating and plumbing industry. For more than 25 years we have provided emergency service to thousands of customers in the Exeter, Brentwood and East Kingston area , making us a household name in homes and businesses across the New Hampshire .
Simmons emergency services include the repair, maintenance and replacement of all types of systems, including, but not limited to, water heaters, furnaces, boilers, gas pipes, gas logs, and heat pumps. We handle different plumbing problems as well – from frozen or burst pipes to broken water mains. No job is too small, garbage disposals, clogged drains, replacing tub valves and faucets, they're all just as important to us.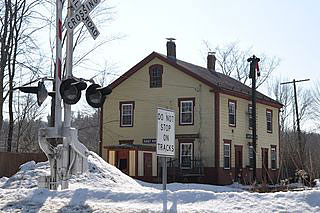 Railroad Station, East Kingston NH - Image by Magicpiano
Securing Your Health – Installation of Water Filter Systems
We also specialize in installing and repairing water filter systems for your home or business. We have made countless homes in the Exeter, East Kingston and Brentwood safer with water filter units from reliable brand name manufacturers. The water filter systems that we have installed in these properties make our customers secure in the knowledge they are getting the cleanest possible water any time of day.
Providing Efficient Solutions to Your Plumbing and HVAC Problems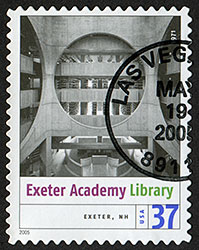 2005 Postage stamp of Phillips Exeter Academy Library (Exeter, New Hampshire)
No matter what kind of plumbing or heating emergency you may have, Simmons will be there to provide you with the best solution. It doesn't matter if it's 4 in the morning or on a holiday weekend – we are available 24 hours a day, 365 days a year.
Our emergency repair services are among the best in New Hampshire. Whether your emergency is a large or a small one, Simmons' highly skilled technicians will offer you their undivided attention and expertise.
So call (603) 964-6206.