EMERGENCY PLUMBING & HVAC SERVICES IN DOVER NH, NEWINGTON NH, ROCHESTER NH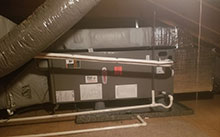 Getting the services of the right plumbing contractor for your specific plumbing and heating projects or issues is the first step towards attaining a safe and functional home or business. But with so many companies in New Hampshire claiming to provide the best results possible, just how do you pick the most reliable plumbing and heating provider?
Here are some tips on spotting the right company to provide top-notch and reliable plumbing and water heater services: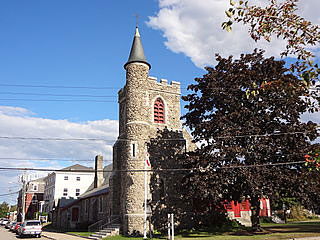 St. Thomas Episcopal Church Dover, NH - Image by Jilliancyork
Longevity – Perhaps, the best barometer that would indicate reliability is longevity. Most successful companies are not in business for years by accident. Simmons has been a respected local company since 1985!
Skilled Manpower – Remember that you're essentially hiring people, and you want to know if they are capable of performing the task that you need help with. Don't hesitate to ask for certifications so you'll know that you're dealing with professionals. If possible, ask for referrals from past clients of the company you're thinking of hiring.
Rates – Your budget should be a major consideration when choosing which emergency service provider to hire in Newington. Ideally, go for the one that offers the most competitive package that is closest to your working budget. But remember that you sometimes get what you pay for – an insanely low service rate doesn't exactly mean that you're getting a great bargain. Don't forget to ask about guarantees and warranties.
Tools and Equipment – Troubleshooting various plumbing, air conditioner and heating system issues requires using special tools and dedicated equipment to guarantee positive results. As such, it's vital for you to check whether or not the contractor you hire has the required equipment and tools for the job.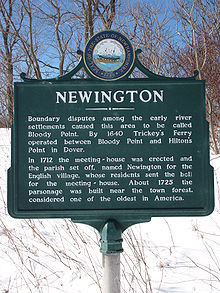 Newington, NH Sign
Professionalism – As it is, you're essentially in a stressful situation because of your heating or plumbing emergency. The last thing that you need is being serviced by discourteous personnel with a questionable work ethic. One way to test if you're working with professionals is asking them to pay your Dover or Rochester property a visit to check on your problem. If they arrive promptly at your set time, then it's one good sign that they know their business.
Comprehensive Offering – Wouldn't it be nice to hire just one company to handle all your plumbing and heating concerns? Then it's important to check out all of it's services to see if it provides all that you may need.
Simmons – All the Help that You Need in One Company
At Simmons Plumbing, Heating & Air Conditioning, we take pride in our 25 years of industry experience serving the Dover, Newington, and Rochester areas. We employ only highly skilled and trained people who are highly professional, courteous, and punctual. Our personnel also use only appropriate tools and equipment. This allows them to work efficiently and to complete their required plumbing and heating tasks on time or ahead of schedule. Moreover, our emergency service warranties essentially cover almost every possible problem concerning heat pumps and plumbing components – so hiring us is like getting the services of several companies for the price of one.
Call us today at 603-427-9300 and let us resolve your plumbing and heating needs.